Let's start with Week 4's PYO. On their web page, they list the current day's PYO status. Consistently, the people coming on weekends (I'm betting most of whom are boxed share members. If you had the time to go during the week, you'd pick up your box at the farm, right?) get less PYO than the people coming during the week. That's annoying.
What's more annoying is that this is the second time the site lists a certain amount we can pick, in this case 1 1/2 pints of blueberries; but, when you get there they tell you a lesser amount. Hence my pint of blueberries and not a pint and a half. I know you're thinking it's only a half pint, but it's the point. If you went grocery shopping and the circular said 10 ears of corn for a $1 and you get there and they'll only let you take 8 ears for a $1...well, first that's false advertising, but also it's annoying.
And for the record, there were a ton of ripe berries waiting to be picked. I think in their effort to make sure everyone gets some, they are stingy with the amounts. Then a lot of it winds up going bad, the strawberries are an easy example. They didn't respond to my Facebook message, but I emailed today and got an immediate response:
We update the 'This Week' page on our website about 3 times a week. Office staff is split between the two farm locations and cannot update by the hour. Sometimes the PYO quantities can change due to the need for additional ripening or low quantities. What is posted online is a guideline for members to plan ahead but also comes with the understanding that these quantities may increase or decrease occasionally.
Our PYO attendants are following the Farm Manager's instructions and are not responsible for those decisions.
My question still stands, what's the point of that page is the information is immediately inaccurate? Wouldn't the farm manager and the person updating the page be working together to post accurate information? If I get a response to that, then I will let you know. None the less, we picked our pint of blueberries, plus some beans and herbs.
That brings us to our Week 5 boxed share. We got red onions, carrots, basil, broccoli, cherry tomatoes, zucchini, kale, salad greens, and corn. They were selling the GMO-free corn for $1.25 an ear for members, I didn't buy any at that price, so it was nice it's in our box.
This was dinner last night, with some vegan cheese sauce (recipe from
Veganize It!
) on the side.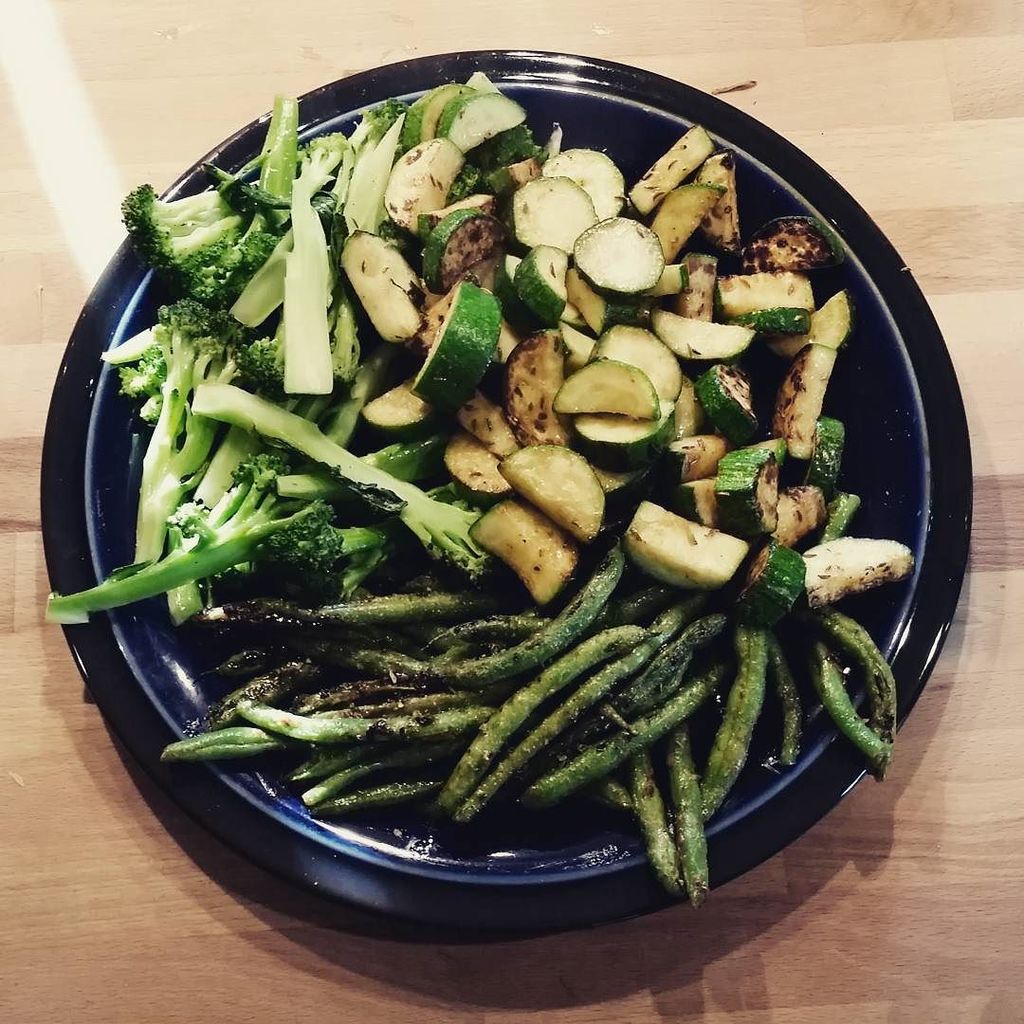 The downside to the kale...I'm already growing a million pounds of kale in my yard. Oh well, I guess I'll be baking more kale chips. I'm not sure what I want to do with the carrot tops. They used to say they were toxic, somehow now it's not. Who knows. I think with fewer greens, we'll definitely get through this box without anything going to waste.