Still looking for presents for your favorite vegan? Are you against how materialistic the holidays have come, but don't want to disappoint friends and family members by nothing giving them something you wrapped? My mother always said to buy yourself a present to so you're getting at least one thing you actually wanted. So maybe you're just looking for a present for yourself.
Do something good and shop at a non-profit's online store.
You know I love my "Give a Cluck, Go Vegan!" shirt. Get it here at
United Poultry Concerns
. I wear it when I grocery shop to make people feel uncomfortable...yes, I'm an ass.
How about a cute cosmetic bag from the
Beagle Freedom Project
? They have t-shirts on their site, but if you were lucky, you got one during their fundraiser like I did that says "Stop Testing on Beagles"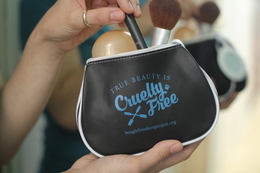 I am super excited to get my Vegan AF shirt from
PETA
. FYI they also have a Vegan Holiday Chocolate Box. I also picked up a ton of stickers. My daughter puts them on all her school stuff and it really seems to be starting a lot of great conversations amoungst her peers.
Admittedly, a little pricer, but remember it's for a good cause...
Farm Sanctuary
has some great stuff. I'm still on the fence about this shirt....
If you aren't into the stuff at the non-profits, how about buying from a company that donates to a non-profit group?
Ivory Ella
donates 10% of it's profits to
Save the Elephants
.
Go Google your favorite sanctuaries and shelters and see what they have. Don't need something wrapped? Why not make a donation in someone's name? Join in on Woodstock Farm Sanctuary's fundraiser for
Hay Every Day
.
I hope you guys have gotten more people crossed off your list than I have!
None of these links are affliate links. These are all just organizations I support and believe in.